Wagoner Davis Hallock
Fifth Iowa Volunteer Cavalry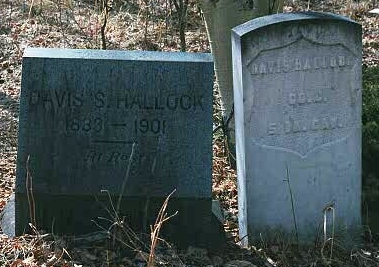 Davis Sperry Hallock was a twenty-nine year old Nebraskan who enlisted on September 22, 1861, as Wagoner in Company C of the Fifth Iowa Cavalry. The Official Roster spells his name "Halleck," but his headstone makes the proper spelling clear. Hallock served out his enlistment, and rather than reenlisting as did the majority of his comrades, he elected to be honorably discharged on October 19, 1864 at Nashville, Tennessee at the expiration of his term of service.
Hallock was born on February 13, 1833 at Sacketts Harbor, Jefferson, New York. Following the war he lived for a time in Bethany, Missouri. On April 18, 1869 he married Sarah Jane Steinman in Bethany. By 1883 they had relocated to Como, Colorado. There, the February 15, 1883 issue of the Fairplay Flume relates that "Mr. Davis Hallock, a dairy ranchman, well known at Como, celebrated his fiftieth birthday on Tuesday last. A dinner party for 10 to fifteen of the neighbors served to make the day a pleasant one and one long to be remembered"
Hallock passed away on May 6, 1901. His obituary reported that "Mr. Davis Hallock, an old citizen of Park county, whose home was in Como, died on last Friday after a long illness. The deceased was 71 years of age and leaves a wife and seven children. The funeral was conducted by Rev. Shively." Hallock's children included Harriet, William Nelson, Jesse Amos, George, Guy, John, Mary Alice and Holley Cook Hallock.