Private James Woolnough
Fifth Iowa Volunteer Cavalry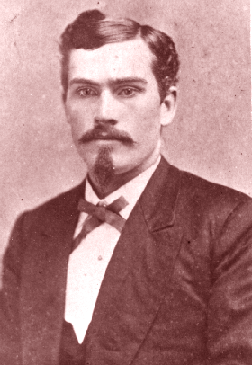 James Woolnough was immigrated from England in 1828. He settled down to a peaceful life when he married Eliza Bishop in Clinton, New York in 1848. By 1860, they had moved to Dubuque, Iowa, where he engaged in the mercantile business, in the line known as the "Yankee Notion" trade. After struggling for several years to succeed with this effort, he entered the plastering business. He was a member of Metropolitan Masonic Lodge, and served his community as a city aldermen in 1857.
Perhaps his relatively advanced age (he was thirty-seven when mustered), Woolnough did not enter the military at the war's outset. However, as the conflict continued, his patriotic impulses motivated him to enlist in the Fifth Iowa Volunteer Cavalry on February 22, 1864. He transferred into the Fifth Iowa Cavalry Consolidated and served through the end of the War Between the States, mustering out on August 11, 1865 at Nashville, Tennessee.
Following the war, Woolnough lived a long life, succumbing on August 9, 1875 to injuries caused by a fall from a wagon. His civil war service led to a proud military legacy in his family. He and his wife had one son, James Henry Woolnough. His grandson, James Barton Woolnough graduated from West Point in 1904 and attained the rank of Colonel. Colonel Woolnough was awarded the Silver Star "for gallantry in action near Gesnes, France, 26 September to 4 October, l918, in continually exposing himself to enemy fire while in command of the front line of his regiment." He was awarded an oak leaf cluster (the mark of a second presentation of this award) for "gallantry in action September 29, 1918, during the Meuse Argonne offensive." Colonel Woolnough also received the Purple Heart and French Croix de Guerre with Silver Star.
Private Woolnough's great-grandson, James Karrick Woolnough graduated from West Point in 1932. He attained the rank of General and retired in 1970 as commander of the United States Continental Army Command.
We are grateful to another of Woolnough's proud descendants, Marianna "Mike" Williams, for the information and photograph provided above.