Captain James Wing
Fifth Iowa Volunteer Cavalry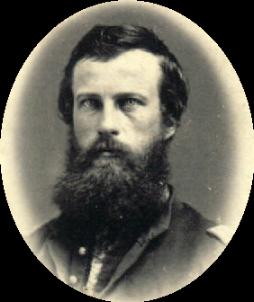 James Hill Wing was born on March 19, 1837 in Sangerville, Maine. In 1864 (presumably during the regiment's reenlistment furlough), he married Anne Flanders, who had been born in the same town. They would have four daughters. Following the war, they resided in Melvern, Iowa, and then the Arkansas Valley of Colorado.
Wing's family had moved to Glenwood, Iowa when he enlisted in the Fifth Iowa Cavalry at the age of twenty-four. Wing entered Company B as a senior noncommissioned officer, mustering on September 1, 1861 as the company's Quartermaster Sergeant. During the battle at the Cumberland Iron Works on August 27, 1862, Wing was captured. Following his parole, he was promoted to First Sergeant on September 1, 1862. He was commissioned as a Second Lieutenant on March 6, 1863 and transferred to the Fifth Veteran Cavalry Consolidated in that grade. He received two additional promotions as the war ended, although the Official Roster indicates that he was not mustered in these ranks. He was promoted to First Lieutenant on June 16, 1865 and Captain on August 3, 1865. He mustered out with the rest of the regiment at Nashville, Tennessee on August 11, 1865 after a fine military career.
Special thanks to Dale Wing for the genealogical information about his relative who served so admirably in the War Between the States. And thanks as well to Michael Breeling for sharing the civil war image of Wing, for which he maintains the copyright.