Major Jeremiah Wilcox
Fifth Iowa Volunteer Cavalry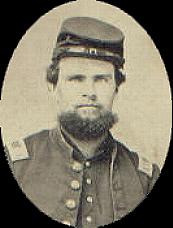 Jeremiah C. Wilcox was a twenty-nine year old resident of Omaha, Nebraska when he was appointed Second Lieutenant of Company B. However, when a vacancy opened to command Company H, he was promoted on January 4, 1862 to be captain of that unit.
While he was serving as the company's company, the regiment was involved in a number of violent battles. During one such engagement, they were forced to battle their way through strong enemy lines out of a surrounded position. During that process, Lieutenant William Hays of their company, was captured by the Confederates. Due to the wound he had experienced shortly before, Wilcox was not with the regiment at the time. Nevertheless, following Hays' capture, he wrote the following letter to Hays' wife:
Camp Patrick
Near Nashville Aug 8th 1864

Dear Madam,

It becomes my painful duty to announce to you the capture by the Rebels of your Husband Lt. Wm. T. Hays of my Co. He was completely worn out by fatigue so he was unable to travel, was taken sick and at his own request was left. The Reg. at the time was entirely surrounded by the enemy and had cut their way through the Rebel lines. They were fighting continually for three days. They were with the expedition of Genl. McCook, which left Marietta on the 26th of July and marched to the rear of Atlanta destroyed the Railroad capture d several very large wagon trains and destroyed them, and were about to return when they were attacked by a very large force of Infantry and Cavalry sent from Atlanta.

I have not yet been able to learn the names of the missing of my Company. Twenty-four are still absent, but I have not heard of any having been killed. Sergt. Seavey writes me that Sergts. McGuire and Ireland (the same that escaped from the Rebels last winter near Huntsville after b ing taken prisoners) with fifteen men were in the brush trying to make their way to Marietta. They were with the Regt. until after it crossed the Chattahoochie River at Franklin, but the command was pressed so hard and that portion were without either Horses or Arms, had to take to the brush in order to escape. They may however be picked up by the enemy, who are very numerous in that vicinity, but I feel quite confident many of them will yet arrive. There are about one hundred from the 5th Iowa Cavl. in the brush in that vicinity and I am informed that a Brigade has been sent to their relief. Two other Lieutenants from the Regt. are still missing, Lt. Gules Co E. and Lt. Ende Co F. The 8th Iowa Cavalry appears to have suffered even worse than our Regt., only a few of them having escaped.

My wound is progressing very favorably indeed. I am able to walk a little, I have received a leave of absence and in a few days will leave for Nebraska via Davenport. I may call at Bellevue for a day or so, in the meantime I expect to have further particulars.

I remain,
Dear Madam
Very truly yours,
J C Wilcox
Wilcox refers in his letter to Hays' wife to his own recuperation from the wound cited above. Apparently that injury was quite severe, as the following passage from the Official Roster reveals. It was during General Rousseau's Raid that the following occurred:
July 22d at daybreak the march was resumed, and at noon the command reached our pickets at Sweet Water Bridge, and arrived at Marietta at sunset and went into camp, the men and horses nearly worn out with the almost continuous march of thirteen days and nights, during which time the command marched 380 miles, entirely in the enemy's territory, destroyed 35 miles of railroad, five large depots filled with cotton and supplies for the rebel army, one shot and shell manufactory, one locomotive and train of cars, and captured many valuable horses and mules, inflicting a loss on the enemy estimated at twenty millions of dollars All this was accomplished with a loss to us of one Captain and four privates killed and eight privates wounded. All the above loss was in the Fifth Iowa Cavalry, except one man of the Eighth Indiana Cavalry, wounded; which shows the prominent part the Fifth Iowa Cavalry bore in what may well be termed the most successful raid of the war.

Among the killed was Captain William Curl, of Company D, and among the severely wounded was Captain J.C. Wilcox, of Company H. The entire loss of the two brigades, in killed, wounded and missing, did not exceed thirty men. It will thus be seen that the Fifth Iowa Cavalry sustained nearly one-half the casualties of the entire command, and took the most conspicuous part of any regiment engaged in the expedition.
Wilcox did indeed recuperate and returned to his company. He was promoted to the rank of First Battalion Major on September 16, 1864, and mustered out of the regiment on March 4, 1865.
The Fifth Iowa Cavalry site is deeply indebted to Michael Breeling for sharing the civil war image of Wilcox, for which he maintains the copyright. We are also grateful to Laurie Hays Kleen for providing the letter quoted above. She is the great-granddaughter of Captain Hays.