Sergeant Charles Wheelock
Fifth Iowa Volunteer Cavalry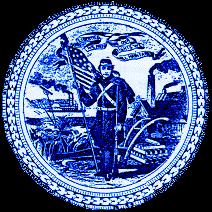 At the age of twenty-eight, Charles Wheelock enlisted on September 14, 1861 in that company of the Curtis Horse, which was destined to become Company B of the Fifth Iowa Cavalry. During the war, he rose through the ranks, being promoted to Eighth Corporal in 1863, Fifth Corporal in 1864, and Sixth Sergeant in 1865. Wheelock mustered out of the regiment with his longtime companions on August 11, 1865 at Nashville, Tennessee.
The Harrison County Iowa History, published in 1891, records some interesting events experienced by Wheelock during the war.
After enlistment his company went to Benton Barracks, Missouri, after which he participated in the following engagements: Fort Donelson, which commenced February 14, 1862, and surrendered two days later; Paris, Tennessee, where our subject's horse received two shots. He was in three different fights at Fort Donelson, almost on the same ground…

One night when he was on duty an encounter occurred between his comrades and the rebels, near Newman, when twenty-seven men were lost. He ran against the limb of a tree and ruptured himself… At Pulaski, Mr. Wheelock had his beard shot off and his shirt collar torn, by rebel lead…

During the war our subject had sixteen bullet holes put through his clothing, and had his boot-heel shot off. A cannon ball shot the nose off his comrade's horse, at which time the bridle-bits were violently thrown against Mr. Wheelock's shoulder.
Following the war, he worked briefly in a sawmill before farming. It is comforting to know that his peers regarded this veteran as a hero. As they wrote, "the reader will be impressed with the fact that our subject had an excellent war record during the time of the Rebellion, and many times almost miraculously escaped… if any one man above another is entitled to wear the crown of success, it is he who tramped, tented, and fought under Southern skies during the Civil War."