Lieutenant Alonzo Hamilton Taylor
Fifth Iowa Volunteer Cavalry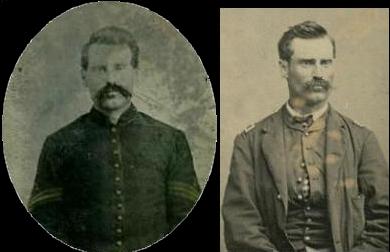 Taylor as a Sergeant and as a Lieutenant
From a Contemporary Tintype & CDV Respectively

Alonzo Hamilton Taylor was born on July 30, 1834 in Penfield, New York. His family joined the western migration, settling in Tomah, Wisconsin in 1858. His mother, Alzina Tripp Taylor did not survive the journey and is buried at Saint Joseph Barracks, Michigan. Alonzo continued on to Denver, Colorado in 1859 and became a shopkeeper.
When the war broke out in 1861, he sold his business, went to Omaha, Nebraska, enlisting in the initial company of the First Nebraska Cavalry, which became Company A, of the Fifth Iowa Cavalry.
One of the few men to begin the war as a noncommissioned officer, Taylor enlisted on August 29, 1861, as Third Corporal of Company A in the Fifth Iowa Cavalry. Perhaps his maturity at the age of twenty-seven was a factor in the early recognition of his leadership skills, but his promotions did not end there. By February of 1862, he was promoted to Fourth Sergeant. A year later he was Company Quartermaster Sergeant. He ended his initial enlistment with promotion to First Sergeant on July 1,1863.
Following his reenlistment and remustering on January 14, 1864, Taylor served as First Sergeant until the spring of 1865. He was commissioned as the company's first lieutenant on March 19, 1865.
Taylor's exceptional heroism is attested by his steady rise to a position of great responsibility. And, fortunately for all descendants of Fifth Iowa veterans, his contributions did not end with the conflict itself. Lieutenant Taylor is on of those rare individuals who kept a diary during the war. The brief entries he recorded during the course of the war (with spelling typical of the era) will provide an invaluable resource for the editor of this website (Robert Stroud) and Richard Keith Young, who are working on a detailed regimental history. Two intriguing entries from the diary follow:
Ft Henry
Feb 3rd 1863
the second battle at Ft Donelson was fought and won the Rebels wer according to their own statements wer not less than 7000 men led by Generals Wheeler & Forest. The Rebels loss in killed was not far from 200 their wounded was considerable but was not exactly known the Rebels showed a goodeal of bravery. Col McNairy was killed he was a brave man and fell at the head of his men close to our works [Colonel or Lieutenant Colonel F.N. McNairy was apparently the commander of the First Tennessee Cavalry Battalion, CSA]. the troops stationed there wer the 83 Illinois and Floods Battery of four guns of the 2nd Illinois Artillery in all less than 700 men. Harding was twice summond to surrender but refused he had hops to hold out untill Col. Lowe at Henry could send him help. the battle comenced at two in the after noon and lasted till dark the Gun Boats came up and setled it for the Rebels. the 83rd had 11 men killed & Capt & quarter master Bissell and about 40 wounded. Capt Flood lost two Privates and his 1st Lieutenant besides he lost an gun the Horses wer all killed so it could not be hauled off.

Aug 26th 1862
Our Cavalry and the Rebels under Col. Woodward had a Skirmish at the Cumberland Iron Works on the River six miles above Donelson. A. Company had four wounded Corp Adkins in the right arm by a buck shot Privt Campbell in the throat & thigh by a buck shot his horse was shot five times and is still alive & carried his Master back to Donelson. McKearschan, eight buck shot in his left leg & his horse killed. Billings struck by a spent ball on the belly not hurt much only a little wind knocked out of him for a little While. Corporal Melvill had his horse killed & was taken prisoner. Corp Curry's horse was killed but he got away. My horse was Mortaly wounded but was able to carry me off the field. there was but 1 half of our Co in the charge Co B. took the brount & out of 33 that charged including Officers one half was killed & Wounded. Lt Somers the commanding Officer of the Co. Was mortaly Wounded he was a brave man and a good soldier. Owing to some mistake only part of our force came up and Col. Lowe ordered a retreat. We fell back to Donelson.
Following the end of the war, Taylor eventually moved to Alexandria, Minnesota where he became a farmer and stock raiser. On New Years Day in 1870, he married Harriet Hubbell. They had 6 daughters, three of whom preceded him in death. He dabbled in local and state politics (mostly unsuccessfully). He was active in veterans organizations and in battling the Pension Office on behalf of himself and other veterans. Like many other soldiers from both the North and the South, Taylor continued to suffer from illnesses that originated during the war. First Lieutenant Alonzo H. Taylor passed away at Alexandria, Minnesota on May 1, 1902.
The Fifth Iowa Volunteer Cavalry regimental site is profoundly grateful to Robert Niva, great-grandson of Lieutenant Taylor, for providing access to the memoirs of this veteran NCO and commissioned officer of the Fifth, and to another of his great-grandsons, Michael Breeling, who maintains the copyright to both of the photographs of Alonzo Taylor.