Private Solon Steere
Fifth Iowa Volunteer Cavalry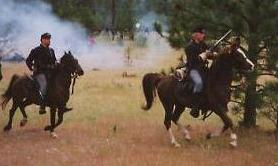 Solon Steere was a nineteen year old resident of Des Moines, Iowa when he enlisted on July 13, 1864 as a private in Company A of the Fifth Iowa Volunteer Cavalry. Despite his young age, this was not his first experience as a member of the Union Army. Only June 13, 1862 he had mustered into Company A of the Sixty-seventh Illinois Infantry. Since it was a "three-month regiment," he mustered out with his comrades on October 6, 1862 at Camp Douglas in Chicago. (The Illinois rosters spell his name as Solon Steers, which confuses the matter of his prior service. The subject is further muddled by the fact that the Iowa rosters do not reference his prior service with the Illinois infantry.)
The fact that this individual is one and the same is made clear by the following entry in William G. Cutler's 1883 History of the State of Kansas.
SOLON STEERE, farmer, P. O. Asherville, was born in Connecticut, May 18, 1845. Removed to Rhode Island, thence to Illinois, thence to Iowa. Enlisted in the United States army in Company A, Sixty-seventh Illinois Volunteer Infantry, April, 1862, and was discharged in August, 1862. Enlisted again in Company A, Fifth Iowa Cavalry, and was discharged in August, 1865. Returned from the army to Illinois. Came to Mitchell County, Kan., and located seven miles southeast of Beloit, and is now the owner of 480 acres of land, and keeps 1,700 sheep. Has been master of the grange. Held the office of Justice of the Peace and treasurer of the school district. He was married in Northern Illinois, February 11, 1867, to Miss Elvira Woodworth, and is the father of six children - Mary, Caroline, Louis, Delia, Mabel and Myron.
With the completion of the Fifth Iowa Cavalry's initial enlistment, Steere transferred with the "veterans" into the Fifth Iowa Cavalry Consolidated. He mustered out with the rest of the regiment on August 11, 1865 at Nashville, Tennessee. Following the war, Steere headed west to eventually settle in Kansas, "the land was the best that God ever made," and the story of this personal migration has been transcribed from his memoirs.