Private Jacob Shaak
Fifth Iowa Volunteer Cavalry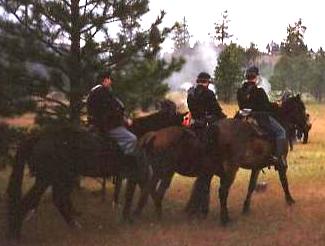 Jacob Shaak was born in Holland around 1840 but immigrated to America in the years prior to the War Between the States. He heeded the call of his President to preserve the Union he had become a member of and enlisted on August 12, 1862.
Although a resident of Bellevue, Iowa, since he was recruited to fill out one of the existing companies, he enlisted in Company I. What is significant about this, is that later this "Minnesota" company was detached from the Fifth Iowa to form Brackett's Battalion. Following this transfer on February 25, 1864, Shaak continued to serve with the new unit in engagements against hostile Indians on the Northwest frontier. When the unit was deactivated, Shaak stayed in Minnesotat, retiring to Jordan, Minnesota, where he is buried in St Joseph's Cemetery.
Family traditions relate that he was briefly captured by the Confederates, and also wounded and injured during his military service.
We are grateful to his descendant Don Wagner for the additional information beyond that which is found in the Official Roster.