Private Joseph Seidell
Fifth Iowa Volunteer Cavalry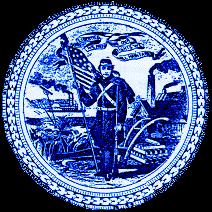 Joseph Seidell was born on March 25, 1835, in Pennsylvania. On September 6, 1861, he enlisted as a bugler at Fort Madison, Iowa in Company F of the Fifth Iowa Cavalry. One of the older members of the regiment, Seidell had married prior to the war, wedding his wife Lydia in 1853. They had five children: Ellen, Sarah, Mary, Emma and Harvey.
The information above, as well as the facts about his post-war life, are taken from the 1909 publication, Old Soldiers Who Have lived in O'Brien County, Iowa. They do not completely correspond to the details recorded in the Official Roster. For example, the Roster lists his name as John Seidel, his nativity as Germany, and his age at enlistment as forty-four. Aside from those details, however, the following information is consistent. (And, it is likely that the later publication is more accurate in terms of the proper spelling of this veteran's name as well as his birth details.)
During the battle at Lockridge's Mill, Tennessee on May 5, 1862, he was one of the troopers who fell into enemy hands. The 1909 volume indicates that he escaped and returned to his company June 10, 1862. Perhaps as a consequence of injuries received during that combat, he was discharged on September 25, 1862 due to disability.
Eventually, Seidell and his family settled in O'Brien County on March 25, 1884, "section 10, Center Township." He died on November 25, 1891, and was buried at Sheldon, Iowa.
It is interesting to note that another Seidell served alongside him in Company F. It is quite likely they were related, although their connection can only be guessed without further research. Florian Seidel, aged twenty-three, was a resident of Davenport at the time of his enlistment two weeks after his kinsman. He too was captured by the Confederates at Lockridge's Mill, returning to the company on June 10, 1862. The final entry in the Official Roster notes a sad conclusion to his military service. It declares he was "discharged for mutinous conduct" on June 27, 1862 at Fort Heiman, Kentucky. This was due to the unwillingness of a number of conditionally "paroled" troopers to bear arms before being properly "exchanged." Their discharge was a sad page in the regiment's story, and will be explored in depth in the history the host of this website hopes to eventually publish.