Captain Webber Seavey
Fifth Iowa Volunteer Cavalry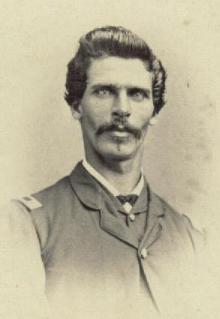 Webber S. Seavey was a twenty year old resident of Hudson, Nebraska when he enlisted in Company H of the Fifth Iowa Cavalry on New Years Day 1862. His leadership attributes were quickly recognized and on the fifteenth of January he was promoted to Fourth Sergeant of the Company. That spring he was promoted to Company Quartermaster Sergeant, and he became the unit's senior enlisted member when he was promoted to First Sergeant on August 1, 1862.
Seavey received an early Christmas present on December 20, 1864 when he was commissioned and became captain of Company H. He mustered out of the regiment on August 11, 1865, Nashville, Tennessee.
While he was serving as the company's first sergeant, the regiment was involved in a very violent and dangerous battle. During that engagement, they were forced to battle their way through strong enemy lines out of a surrounded position. In that process, Lieutenant William Hays of their company, was captured by the Confederates. Following his capture, Sergeant Seavey wrote the following letter to Hays' wife:
Marietta, Ga.
Aug. 4th, 1864

Mrs. Hays,

I arrived here last night with six men of Co. H, the balance are dismounted 40 miles beyond our lines trying to make this point on foot which they will undoubtedly. It pains me to say that your husband is a prisoner--after marching three days and nights his horse gave out and himself very much fatigued, our command being entirely surrounded, we had to cut our way out and him being so completely tired out, after many endeavors, and by his own request we were compelled to leave him behind.

Otherwise as a prisoner you need not borrow any trouble for he was stronger and healthier than I ever knew him before.

Had I the least idea that we would ever get through, I should certainly have brought him along but at that time it was impossible.

At his request I shall destroy all his mail matter and any further information you wish I shall (ever) be happy to give you.

With many wishes for your health and welfare, I am very truly your Husband's friend and yours.

Webb S. Seavy
1st Sergt
Co H, 5th Iowa Cavalry
The Fifth Iowa Cavalry site is deeply indebted to Michael Breeling for sharing the civil war image of Seavey, for which he maintains the copyright. We are also grateful to Laurie Hays Kleen for providing the letter quoted above. She is the great-granddaughter of Captain Hays.