Private Philo Sage
Fifth Iowa Volunteer Cavalry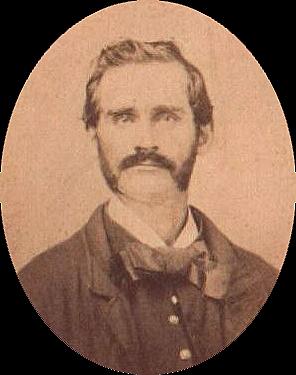 Actually, referring to Private Philip G. Sage as a "deserter," is a little misleading. Although he did go AWOL from the regiment in which he originally enlisted, Sage did join another Iowa cavalry regiment in which he served throughout the course of the War Between the States.
On October 19, 1861, Sage enlisted in Company D of the Fifth Iowa Cavalry. The following day, however, he was listed as a deserter at Benton Barracks, Missouri.
The truth is, however, that Sage did not run from his voluntarily assumed military duties; he simply changed his mind about which regiment in which he desired to serve. Perhaps it was because of friends he encountered who had signed up for duty with the Fifth's sister regiment. For whatever unknown reason, on the 28th day of the same month, Sage enlisted in Company I of the Fourth Iowa Cavalry. At the end of his enlistment, he reenlisted and achieved "veteran" status.
When he enlisted in the Fourth, he used his nickname, Philo. However, there is no mistaking that Philip and Philo were one and the same. On both rosters, his residence is noted as Fontanelle, and his nativity as New York. Strangely, his age in the Fifth roster is listed as 25, while he appears to have been a year younger in the Fourth. A final confirmation appears in the roster of the Fourth Iowa Cavalry which expressly concludes Sage's entry with the note: "See Company D, Fifth Cavalry."
Sage was certainly not alone in leaving his original unit to serve faithfully with another during the war. Despite the brief duration of his service with the Fifth Iowa Cavalry, Sage proved that he was no coward. Rather, he was a patriot who risked his life to preserve the Union.
The photograph of Philo Sage is provided through the courtesy of Curtis Killman.