Private Washington Lacy Runyan
Fifth Iowa Volunteer Cavalry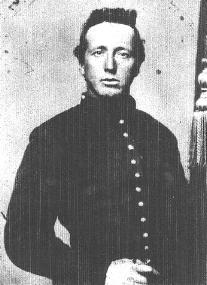 Washington Lacy Runyan was born on March 19, 1833 in Columbia County, Pennsylvania. He would later return home to Pennsylvania, where he died in Muncy on February 6, 1881. During his lifetime "Wash" married Martha Louise Simpson and together they had seven children.
Another highlight in Runyan's life (while he was still a single man) was his decision to place his life on the line in the cause of preserving the Union. At the age of twenty-eight, on September 30, 1861, Runyan enlisted in the Fifth Iowa as a company bugler.
He remained with the unit until August of 1863 when he was selected for detached service as an orderly to General Crook. With the bulk of the regiment he was mustered out in 1864, only to reenlist as a veteran. He received an advance on his reenlistment bonuses and his regular pay, before heading out for a well-deserved break from the battlefront.
Upon return to the regiment, Runyan served capably, with the exception of being charged sixty cents for the loss "through carelessness of one thong and brush wiper."
However, now a strange occurrence enters the scene, with the official roster relating that Runyan deserted on July 27, 1865 in Nashville, Tennessee. This certainly does not make sense, with the mustering out of the regiment on the imminent horizon. Fortunately--even though the official roster was published prior to the action--Runyan's pension records contain documents revealing that "the charge of desertion of July 27, 1865 against this man is removed and he is discharged to date July 27, 1865. Unfortunately, this amendment to his military history was not made until it was allowed by an Act of Congress approved July 5, 1884… three years after his death.
Sadly, since his wife predeceased him, Washington left several minor children when he passed away. Still, it is a fine thing shortly after his passing, his honorable service to the Nation was acknowledged. The very fact that he was hand selected to serve as orderly to General Crook certainly attests to his reliability and professionalism. His descendents can be justifiably proud of the lengthy service provided by this farmer who laid aside his plow to take up pistol, saber and bugle in the defense of the Union.
The Fifth Iowa Volunteer Cavalry regimental site is thankful to Hazel Sheehan, great-great-grand-daughter of Private Runyan, for providing the photograph and additional information about this bugler who was also a warrior.