Private George Phelps
Fifth Iowa Volunteer Cavalry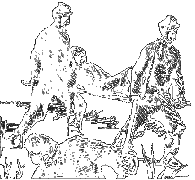 Private George Phelps was a twenty-three year old farmer from Minnesota when he enlisted in the one of that state's companies which was destined to become part of the Fifth Iowa Cavalry. He was among the troopers captured on May 5, 1862, at the Battle of Lockridge's Mill in Tennessee. Phelps returned to Company G on June 7, 1862.
However, he would be discharged for disability on September 17, 1862, at Fort Heiman, Kentucky. Perhaps the disability was due to the wounds he received in the battle during which he was captured.
Following the war, Phelps returned to his hometown of Mazeppa, Minnesota, where he resumed farming for the remainder of his life. A 1900 photo of Schnell is posted on the Brackett's Battalion website.