Sergeant George Northrup
Fifth Iowa Volunteer Cavalry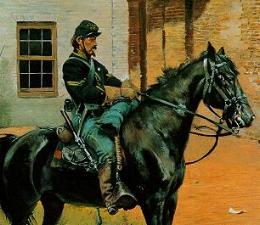 George W. Northrup was a true frontiersman. Born in New York, he found his place in the Red River region of Minnesota. He was one of the men whose peers recognized from the outset of the war his leadership skills. When he enlisted on November 2, 1861, he was appointed Fourth Sergeant of his company. Within two months, he had been promoted to Second Sergeant, and a month later, he had become First Sergeant of Company K.
Northrup served with distinction during the Fifth Iowa's first three years of service. At the end of their enlistment, he reenlisted on January 26, 1864, and was transferred with his Minnesota compatriots to Brackett's Battalion, serving the remainder of the war guarding the frontier.
The story which follows is a fascinating true account of Northrup's exploits on the frontier, relating to not always friendly Native American tribes. It is well worth the time to read. It comes from a nineteenth century issue of Harper's New Monthly Magazine.
Apparently, although he was well acquainted with the Minnesota Indian territories, and was encouraged to become a zoologist by one of the great naturalists of the era, when the war broke out "he was seized with a patriotic enthusiasm, and he wrote… 'while the war lasts I belong to my country; when the war is over I am at your service.'"
Although the story focuses on his encounters with Indians, it does relate two intriguing civil war events. The first is Northrup's capture of Jerry Stone, a notorious "Tennessee bushwhacker." A more cryptic and peculiar account relates the slaying of Colonel Walker of Texas, who was serving as a Provost Marshal in North Carolina. This apparently occurred while Northrup was leading a small party behind enemy lines to stir up Union loyalists (actually "moonshiners") in the backwoods of the Carolinas.
When offered a commission in an infantry regiment, he declined, saying "I am a cavalryman by nature. My place is in the saddle." Sadly, Northrup was destined to meet a heroic death in an engagement with the Yanktons and Tetons of the Sioux. Rather than elaborate in this synopsis, I leave it to the reader to enjoy the full tale in the article which follows.
---