Private John T. Miller
Fifth Iowa Volunteer Cavalry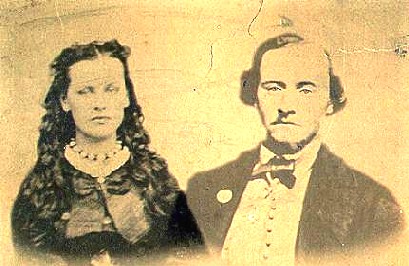 Miller and his Wife after the War

John Tice Miller was the son of Isaac Miller and Sarah Findley. His mother died shortly after his birth. John felt strongly about the Union cause and joined the army to do his part. A native of Missouri, he signed up with the Osage Rifles. Since he was under age, he lied to enter the war. His father was furious and wrote a letter to the government to have his son released from military. Presumably due to the need for men combined with normal administrative bureaucratic problems, his efforts were to no avail.
John was hospitalized in Pulaski, Tennessee when the regiment veteranized. When he was discharged from the hospital and rejoined the unit, due to administrative policies he was not permitted to reenlist as a veteran. Thus, at the conclusion of his enlistment, he joined the Fourth Michigan Cavalry which participated in Sherman's "march to the sea."
While with the Michigan regiment, John was wounded twice. Near Rattlesnake Gap he received a bullet wound to the leg, which was treated by field doctors. In July of 1864, near Peach Tree Creek in Georgia he was more seriously wounded, the bullet passing through his body. After nearly three months in the hospital, he returned to his regiment and was, shortly after that, retired.
In one of these incidents, John's horse was shot out from under him and killed. John was wounded and separated from the regiment which had withdrawn. Along came Confederate soldiers in search of prisoners. John thought quickly and pulled his dead horse over his body. He remained still and was apparently considered to be dead by the Confederate's searching the site.
In the picture above, John is seen with his third wife, Mary Francis Douglas. Her father disowned her for marrying a man much (fifteen years) older than herself. Mary's mother and sister would sneak over for occasional visits but her father refused to forgive her. Since John was one of the younger members of the regiment, it should come as no surprise that, despite his wounds, he lived until 1932.
This memorial to John Tice Miller's service to his country (in two distinguished regiments), is provided by his proud great-granddaughter, Shirley Miller Dunn.