Lieutenant Lawrence Millar
Fifth Iowa Volunteer Cavalry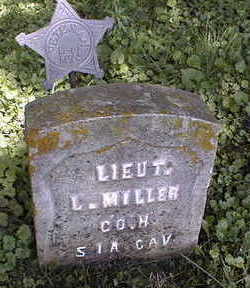 Lawrence Millar did not actually serve with the Fifth Iowa Cavalry, proper. However, he deserves mention here due to his connection with the formation of one of the regiment's companies. The Official Roster records the following: "Company H was composed of a detachment of twenty-seven men, enlisted at Bellevue, Iowa, by Lieutenant L. Millar, for the Fremont Hussars, was subsequently recruited to the number of fifty-five men, and, with William T. Hays as First Lieutenant, was mustered into the service January 9, 1862, as a half company. The company organization was completed at Fort Henry, Tennessee, February 11, 1862, and it was assigned to the 'Curtis Horse' Regiment."
Millar was certainly proud of his part in forming the Fifth Iowa Cavalry, as his obituary reveals. The August 29, 1901 issue of The Bellevue Leader says:
DR. L. MILLAR DEAD
Well Known Physician Passed Away at His Home in This City, Tuesday

Dr. Lawrence Millar, Bellevue's well-known physician, died at his home in this city, Tuesday afternoon at 5:15 o'clock. Dr. Millar had been feeling poorly for a number of years but had only been confined to his bed a few days. He had passed the 74th milestone in life's journey and his death resulted from old age and general debility.

Dr. Millar was born near Sterling Castle in Scotland and came with his parents to America when eight years of age, settling at Huntington, Canada. He was graduated from McGills medical college and came to Dubuque in 1849. One year later he located in Bellevue and had resided here continuously ever since, practicing his profession until the time of his death. He was married in 1854 to Miss Susan Booth, daughter of the late Judge Booth. His wife died in 1880 and there survive him three daughters, Mrs. Harriet Henry of this city, Mrs. R.E. Slattery of Dubuque and Mrs. H.M. McKee of San Diego, California.

At the commencement of the rebellion Dr. Millar raised a company in Bellevue called the "Fremont Huzzars," but it was afterward merged into the Fifth I.V.I. [this should read "I.V.C."] and he went into the service as surgeon, finally receiving an honorable discharge. He was prominent in G.A.R., Odd Fellows and Masonic circles, and a physician and surgeon of recognized ability.

The funeral occurred this (Thursday) afternoon at 1:00 PM with a short service at the house under the auspices of the Masonic order. The cortege then moved to the Presbyterian church where Rev. C. Memmott conducted the services. The pall bearers were members of the G.A.R. and the remains were interred in the Presbyterian cemetery south of town.
The Fifth Iowa regimental websites are grateful to Michael Altfillisch, proud descendant of one of our veterans, for transcribing this obituary.