Private Theodore Martin
Fifth Iowa Volunteer Cavalry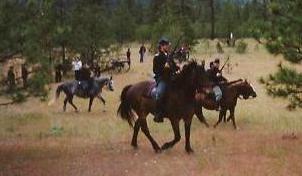 Theodore Martin was a European immigrant who enlisted at the age of thirty on August 11, 1862. The Official Roster lists his birthplace as Holland, but his obituary says that he was born in Luxemburg.
Martin was captured by the Confederates on July 31, 1864 during the engagement at the Chattahoochee River in Georgia. Following his repatriation, he reenlisted in Company B of the Fifth Iowa Cavalry to see the war through to its conclusion. He mustered out of the regiment on June 5, 1865 at Clinton, Iowa.
He lived to the age of seventy, and the following obituary reveals that he remained a respected member of the Belleville community. It is taken from the December 11, 1898 issue of the The Bellevue Leader.
THEODORE MARTIN DEAD
Old Veteran Expires at His Home in This City Yesterday

Theodore Martin died at his home in this city yesterday at 12:40 p.m., after an extended illness, aged 70 years. He was born in Luxemberg, Germany, April 8, 1828, came to Dunlieth, Illinois in 1858 and remained there about a year when he removed to Bellevue. He enlisted at the beginning of the civil war as a member of Co B, 5th Iowa Cavalry and served with distinction throughout the great struggle. He was a prisoner of war in southern prisons and endured many hardships. He received an honorable discharge at the close of the war and then returned to Bellevue to follow his trade, that of a mason. In December, 1865, he was married to Miss Susan VanDanacker and eight children were born to them, six surviving, as follows: Mrs. D.S. Weber, Henry, Frank, Theodore, Jr., Lee, all of this city and Miss Eva Martin of Davenport.

Mr. Martin was an honest, upright man who enjoyed the esteem of his fellow citizens. He was also a member of the G.A.R., and Legion of honor.

The funeral will occur tomorrow at 2:00 PM from the Presbyterian church, Rev. Hall officiating. Interment will be in the cemetery north of town.
The Fifth Iowa regimental websites are grateful to Michael Altfillisch, proud descendant of one of our veterans, for transcribing this obituary.