First Sergeant John S. Lemmon
Fifth Iowa Volunteer Cavalry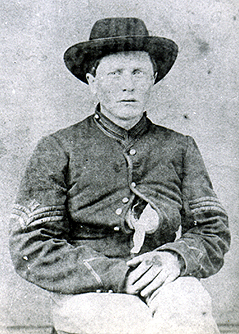 John Lemmon was no older than most of his companions when he enlisted to preserve the Union. He was only twenty-one, and yet he rapidly rose through the ranks. He was promoted to Eighth Corporal of Company D in June of 1862, eventually becoming the company's First Sergeant in April of 1864.
Lemmon was commissioned a Second Lieutenant in July of 1864, but he was never mustered as an officer.
Two weeks after he was commissioned, Lemmon was captured during the engagement in Georgia at the Chattahoochee River.
The editor of this site expresses his gratitude to Charles VanTuyl for his kindness in providing First Sergeant Lemmon's photograph.