Private Antoine Koob
Fifth Iowa Volunteer Cavalry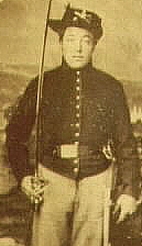 Antoine (Anton) Koob enlisted in Company F of the Fifth Iowa Cavalry on August 15, 1862. He was not mustered until August 15, 1862. The Official Roster cites his place of nativity as Holland. However, an online genealogical website records his birth as taking place on December 29, 1843 at Niedermertzig, Luxemburg.
In 1883, the Cass County, Iowa list of military pensioners, Koob is mentioned as a resident of Anita. It notes that his monthly pension was six dollars and that it was awarded for a "fracture fibula right leg." Koob's service with the Fifth Iowa was relatively brief. The Roster records that he was discharged for disability on April 5, 1863 at Fort Donelson, Tennessee. Despite the brevity of his service, the photo above reveals that he cut a dashing figure in his uniform.
We are grateful to Jeff Brown for generously sharing this photograph from his collection.