Captain J.K. Kidd
Fifth Iowa Volunteer Cavalry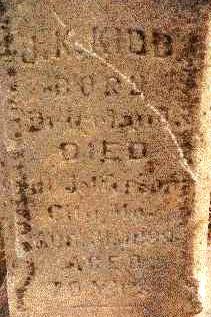 The Fifth Iowa Cavalry regiment was unique in the Union army, in that it was formed by the union of individual companies raised in four different states. The majority of the men came from Nebraska, Iowa and Minnesota, but a smaller contingent rallied from Missouri.
Company M was enlisted in Osage County, Missouri, by Captain J.K. Kidd, and was mustered into the service at Jefferson Barracks, Missouri on September 14, 1861. Its original self-designation was the "Osage Independent Mounted Rifles." It joined the "Curtis Horse" Regiment at Benton Barracks, St Louis, Missouri, on January 4, 1862. Like many other members of the regiment, Kidd was an Irish immigrant.
An 1866 publication reveals that Kidd was primed for service in the Union cause. It records:
The first convention of men in Missouri who were determined to take public position with the anti-slavery element of the North met, in obedience to a call which originated with the above gentlemen, in the small hall of the Mercantile Library building, on Saturday, May 10, 1860, and organized by choosing B. Gratz Brown, Chairman, and N. T. Doane, J. K. Kidd, Theophile Papin, and Charles Borg, Secretaries. In all the speeches and resolutions, there breathed nothing but the spirit of genuine freedom, and there was inaugurated an open and relentless warfare upon the project of slavery extension. Delegates to Chicago were chosen, and instructed to present the name of Edward Bates as the first choice of Missouri for the presidency of the Union.
Although he played the central role in recruiting the company, he only served with the Fifth Iowa Cavalry for a little more than a year. Thirty-six at the time of his enlistment and appointment as captain on August 29, 1861, he resigned his commission on September 10, 1862.
Special thanks for the photograph of Captain Kidd's gravestone to author Rick Henson, who specializes in research about the Ozarks and helps edit Southern Back Roads.