Private Alexander D. Jameson
Fifth Iowa Volunteer Cavalry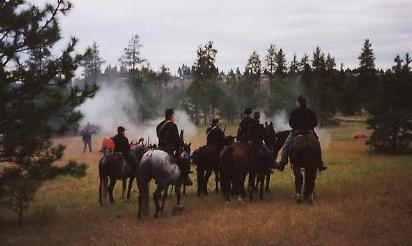 Private Alexander D. Jameson claimed that he was eighteen when he enlisted in the Fifth Iowa Cavalry. However, as the biographical sketch below reveals, he was one of the many teenagers who lied to get into the fray to preserve the Union. Even at that, he barely had an opportunity to wear Union blue. The war was well under way when he enlisted on February 24, 1864. He would serve for the duration of the war, mustering out at Nashville, Tennessee on August 11, 1865. He would eventually serve his Nation once again as a judge.
The following comes from an 1898 publication, Portrait and Biographical Record of Denver and Vicinity Colorado..
Honorable Alexander D. Jameson. Since coming to Colorado in 1870, Judge Jameson has been chosen to serve in a number of positions of responsibility and trust, and in every office of which he has been the incumbent every duty has been faithfully and efficiently discharged. For three years he was deputy clerk and recorder of Jefferson County, after which he served as justice of the peace for one year, at the same time carrying on the study of law. In 1875 he was the Democratic nominee for probate judge, and receiving the election, served for a term of two years. Under the new and ratified constitutional convention, the office became that of county judge, to which he was elected in 1880, serving from January, 188i, until January, 1884.

Afterward, failing health made it advisable for him to relinquish his professional work and engage in another occupation, and he therefore began merchandising, as a member of the firm of Jameson & Koenig, which partnership was dissolved two years later. In 1887 he was appointed clerk and cashier of the state penitentiary, which position he held under two wardens, resigning in 1891. On his return to Golden he engaged in the abstract title business for a short time, but soon sold out. The year of his return to this city he was appointed deputy district attorney, which position he still holds, having served under four consecutive district attorneys. For two years he represented his ward upon the board of aldermen of Golden, but at the expiration of his term refused to serve further, though elected a second time to the position. He is a leading Democrat and a member of the county central committee of the party.

The Jameson (for in that way the name was originally spelled) family originated in the north of Ireland, and from there three brothers came to America, all of whom settled in New Hampshire. One of them, Thomas, our subject's grandfather, was a soldier in the Revolution and the war of 1812. He removed to western New York and settled in Erie County, where it is supposed his son, Alexander D., Sr., was born. The latter, with an older brother, Archibald, accompanied his father to the front as a soldier in the war of 1812. In 1849 he moved to Iowa and located three miles north of Andrew, in Richland Township, Jackson County, where by purchase of government and other land, he acquired the title to four hundred acres. His death occurred on his farm there at the age of fifty years. His wife, Helen, was born near Buffalo, N. Y., the daughter of Dr. William Warriner, who was born in Vermont, and engaged in medical practice in New York. During the war of 1812 he served as a surgeon, and his death occurred about that time. He married a daughter of Captain Bemis, an officer in the Revolution, who was shot in the leg while in a battle, and died from the effects of the injury received. Mrs. Jameson died in Iowa at the age of sixty-seven. Of her five children three are living, our subject being the youngest. The oldest child, W.H., served in the war as a member of the Second Iowa Cavalry, and now resides in Marshalltown, Iowa.

Near Buffalo, Erie County, New York, the subject of this sketch was born December 31, 1847. He was reared in Jackson County, Iowa. At the age of fifteen he ran away from home and enlisted in Company H, Fifth Iowa Cavalry, which was mustered into service at Davenport and sent south. In the spring of 1864 he took part in the famous march through Georgia, participating in the battles of Resaca, Dallas, Snake Creek, Kenesaw Mountain, Marietta, Lovejoy Station and the siege of Atlanta, then back to Nashville under General Thomas, and taking part in the battles of Columbia, Duck Creek, Franklin, Nashville, the second battle of Franklin and the engagement at Pulaski. The winter of 1864-65 was spent in camp in Alabama. In the spring of 1865 he took part in the Wilson raid front Decatur, Alabama, to Selma, Alabama, and Macon, Georgia, looking for Jefferson Davis. Later he did reconstruction duty at Atlanta. He was mustered out at Nashville August 11, 1865, and honorably discharged at Clinton, Iowa. During all his period of service he was neither wounded nor captured. He was the youngest member of the regiment and one of the youngest soldiers in the army. He is a member of T.H. Dodd Post No. 3, G.A.R., of which he is past commander.

After returning from the war he attended Bailey Commercial College at Dubuque, where he graduated. He then accompanied the family to Audubon County, settling near Atlantic. A year later, in 1870, he came to Colorado and has since made Golden his home. Here he married Sarah A. Thornton, a native of England, and by her he has five children: Helen Grace, a graduate of the Colorado State Normal School at Greeley, and a teacher in the high school of Golden; Gertrude B., a graduate of the high school here; Blanche, Alexander Thornton and Catherine S. Mrs. Jameson for many years has been a member of the Presbyterian Church. Fraternally Mr. Jameson is connected with the Knights of Pythias and the Patriotic Order Sons of America. For several terms he served as secretary of the school board, during which time he was in charge of the building of the North school building.