Private Henry Herkes
Fifth Iowa Volunteer Cavalry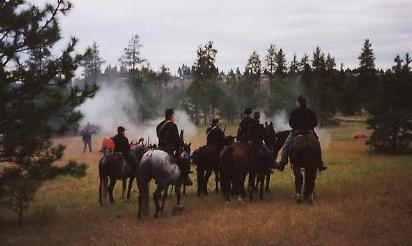 Henry Herkes was a twenty-five year old German immigrant when he enlisted on September 2, 1861 in Company E of the Fifth Iowa Cavalry. He was taken prisoner on May 5, 1862, during the battle at Lockridge's Mill, Tennessee. He returned to the company on June 7, 1862. He reenlisted on New Years Day of 1864, and served with the regiment until he mustered out on August 11, 1865 at Nashville, Tennessee. As his obituary from the September 21, 1916 issue of The Bellevue Leader reveals, his health was seriously impaired by his military service.
TAPS SOUNDED FOR HENRY HERKES
Old Veteran Joins Silent Army at Advanced Age of Eighty Years

Another old veteran has joined the silent army in the person of Henry Herkes, who died this morning at about nine o'clock at his home in north Bellevue, following a stroke of paralysis. Mr. Herkes had attained the advanced age of eighty years.

Born in Luxemburg, Germany, June 24, 1836, he came to this country with his parents and located in Dubuque and a few years later in Bellevue. When the war broke out he enlisted in Co. E, Fifth Iowa Cavalry and served over three years. He took part in thirty three engagements and while at the front his health became so impaired that he was left an invalid for life.

He was married January 4, 1866, to Miss Elizabeth Czizek, who with two sons and two daughters survive, namely: Michael and James, Mrs. Jos. Rourke of Dubuque and Mrs. Howard M. Dodge of Chicago.

The funeral will take place Saturday morning at nine o'clock from St. Joseph's church, with interment in the Catholic cemetery.
The Fifth Iowa regimental websites are grateful to Michael Altfillisch, proud descendant of one of our veterans, for transcribing this obituary.