Private John Peter Hansen (Hanson)
Fifth Iowa Volunteer Cavalry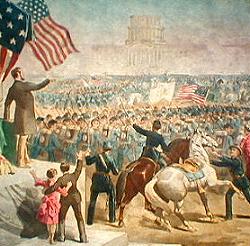 John Peter Hansen (whose name appears on the official roster as Hanson) was one of the many "Germans" who signed up to defend the unity of his adopted country. (The roster cites Germany as the location of his nativity, but the newspaper article quoted below identifies it as Luxemburg.) A nineteen year old native of Dubuque, he was mustered into Union forces on October 7, 1861. He would serve for the duration of the war, mustering out on May 30, 1865, at Nashville, Tennessee.
Hansen had the misfortune of being captured not once, but twice. He was taken prisoner on May 5, 1862, at Lockridge's Mill, Tennessee. He returned to his company on June 7, 1862. He was captured again on July 31, 1864, at Newnan, Georgia.
Fortunately Hansen survived both combat and capture, to live a fruitful life. Unfortunately, the postwar years were marred by the consequences of his illness during his confinement. The following obituary, from the January 3, 1892 issue of the Sunday Dubuque Herald outlines some of the highlights of Hansen's life.
The funeral of the late J.P. Hansen, mention of whose death Thursday morning was made in the Herald of Friday, will be held this afternoon at 2 o'clock, from the family residence, corner of eleventh and White streets, to Linwood cemetery. The funeral will be under the auspices of Lookout Post, G.A.R, of which Deceased was a charter member. The governor's Greys will furnish a detail for escort and to act as a firing squad.

Deceased was born in Luxemberg and died at the age of 49 years, 3 months and 14 days. His parents emigrated to Dubuque when he was a boy. He enlisted in Company E, Fifth Iowa cavalry, serving almost through the great conflict and achieving an honorable record. He participated in engagements at Donelson, Murfreesboro, Chattanooga and several other places. In May, 1862, he was taken prisoner at Obine river, near Pittsburg Landing, but was paroled. During the Atlanta campaign, in 1864, he was again captured and was confined in Andersonville prison for several months. He contracted sickness from which he never recovered. On being released from Andersonville, he was honorably discharged from the army under a ruling of the war department excusing prisoners of war from further service.

After leaving the army Mr. Hansen returned to Dubuque and resided here continuously until his death. He is survived by his wife, the sister of Mr. Chas. Pape, of the Union house. A son, Nicholas, was killed last summer on the Allen & Swiney line. The oldest remaining child is Mrs. Ed. P. Morse of Portland Ore. There are six children at home. The late Nicholas Hansen, of Hansen & Linehan was his brother. Another brother, Michael, is sick in Mobile, Ala. He also leaves four sisters, Mrs Theo. Theis and Mrs. Nic. Theis of this city, and Mrs. John Greif and Mrs. Conrad of Dyersville.
Very special thanks to Ellen Elliott, great-grandniece of this proud veteran of the Fifth Iowa. Her great grandmother was Catherine Hansen Seemon Theis, his sister.