Private Aaron Graybill
Fifth Iowa Volunteer Cavalry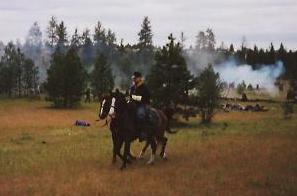 Private Aaron Graybill was truly one of the war's unfortunates. Too young to enlist at the outset of the War Between the States, during the regiment's 1864 recruiting efforts, he responded to the urges of youths seeking glory. He enlisted on June 1, 1864, being mustered on the 13th. It did not take long for eighteen-year-old Aaron to join the regiment on the frontlines of the war.
On August 31, 1864, the regiment participated in a battle at Jonesboro, Georgia. One hundred and forty-nine Union soldiers lost their lives during the battle, and poor Aaron was among them.
Despite his early passing, Private Graybill's contribution to the preservation of the Union continues to be remembered by his great-great-niece, Alice Graybill Russell.