Private Henry S. Edson
Fifth Iowa Volunteer Cavalry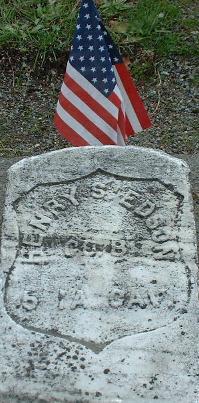 Private Henry S. Edson did not serve long during the War Between the States, but he was among the first to enlist to preserve the Union. Born in Pennsylvania, he was a resident of Glenwood, Iowa when he enlisted on September 14, 1861 in Company B at the age of seventeen.
Edson served with the regiment for a year, before he was discharged for an unspecified disability on September 21, 1862 at Cairo, Illinois. (The Iowa pensioners list of 1883 indicates that Edson's wounds consisted of a gun shrapnel injuries to the right hand and the left wrist.)
He eventually made his west to the West Coast, since his final resting place was the Grand Army of the Republic cemetery in Seattle, Washington.
The Fifth Iowa Cavalry website is grateful to Jim Garber, great-grandson of veteran Thomas Chambers for the photograph of Edson's headstone.