Private William Dunton
Fifth Iowa Volunteer Cavalry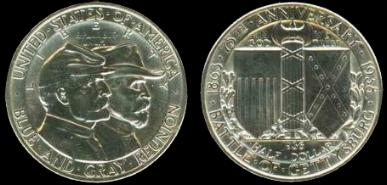 Gettysburg Commemorative Half Dollar

William H. Dunton was an eighteen year old resident of Dubuque, when he enlisted in Company B on February 29, 1864. He remained with the regiment for the final year and a half of its existence, mustering out on August 11, 1865 at Nashville, Tennessee.
Since he was slightly younger than most of his companions who had signed up at the war's outset, Dunton managed to survive until a very historic event… the 1938 gathering of the Grand Army of the Republic, which also marked the seventy-fifth anniversary of the Battle of Gettysburg. Although the Fifth Iowa Cavalry had not participated in that particular battle, the reunion there was extremely symbolic, and both Union and Confederate veterans joined together with President Franklin Roosevelt to dedicate the Eternal Light Peace Memorial. It's motto quite appropriately reads, "Peace Eternal in a Nation United."
It is unknown how many veterans of the Fifth Iowa survived up to 1938, or how many of them were in attendance at this historic reunion. All living veterans of the Civil War (it is estimated there were only about 12,000 remaining) were sent formal invitations to attend and offered free railroad passage. One thousand eight hundred and forty-five (1,359 Union and 486 Confederate) managed to get there despite their advanced age. Special medals were struck for presentation to the veterans.
Unfortunately, Dunton himself was in ill health at the time, and unable to be physically present. It can safely be assumed that he was, however, present with his comrades in spirit.
The Commander-in-Chief of the Grand Army of the Republic shared these words with his compatriots from both proud armies: "Three-quarters of a century ago it happened. Those of us who remember this place so well are old, and the passing years have brought tolerance and forgiveness. The wounds are healed, and it is our fervent hope that, with our passing, not even a scar will remain."
Special thanks to Douglas Roesler, whose wife Sharon is great-great-granddaughter of Private Dunton.