Private Charles M. Davis
Fifth Iowa Volunteer Cavalry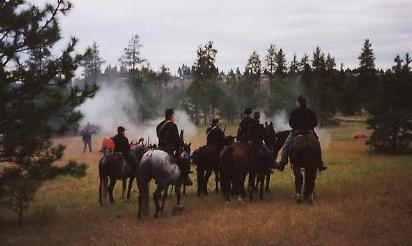 Charles Marchant Davis of Jackson County, Iowa was one of the oldest citizens to join the Fifth Iowa Cavalry. He enlisted on March 29, 1864 in Company H. With most of the rest of the regiment, he transferred into the Fifth Veteran Cavalry Consolidated on August 8, 1864. He mustered out of the Union army on May 6, 1865 at Davenport, Iowa.
He was born on September 8, 1820 in New York to John and Jane Davis who had immigrated here from England. His mother died when he was young, but his father remarried and moved to Chicago. Charles married Sarah Marie Phillps in Flint, Michigan on November 2, 1847. Ten children were born to them, three of whom died while very young. Five of the surviving children were born prior to his enlistment in 1864. His youngest son was born in Wisconsin and was only two years old when Charles left for the war.
Sarah often told stories to the family about how she and the children had to hide from Indians many times while he was gone. After he returned, their last two children were born. Charles died on May 10, 1886 in Potosi, Wisconsin. His widow died in 1912 and their children have left him with many descendants.
We are grateful to Private Davis' great-granddaughter, Donna Davis Lane, for the information about his life and family.