Captain William Curl
Fifth Iowa Volunteer Cavalry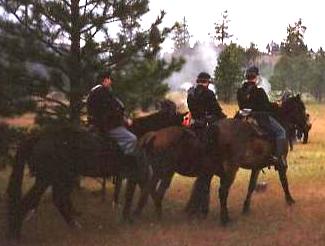 William Curl was a twenty-nine year old resident of Dakota, Nebraska when he was appointed First Lieutenant of what would become Company D of the Fifth Iowa Cavalry on October 11, 1861. The following year, on November 1, 1862, he was promoted to Captain of his company. It was in this capacity that he embarked on Rousseau's Raid. Sadly, he would not survive the venture, being "killed by guerrillas on July 13, 1864 at Greenport, Alabama. The brief regimental history included in the Official Roster relates the following:
July 22d at daybreak the march was resumed, and at noon the command reached our pickets at Sweet Water Bridge, and arrived at Marietta at sunset and went into camp, the men and horses nearly worn out with the almost continuous march of thirteen days and nights, during which time the command marched 380 miles, entirely in the enemy's territory, destroyed 35 miles of railroad, five large depots filled with cotton and supplies for the rebel army, one shot and shell manufactory, one locomotive and train of cars, and captured many valuable horses and mules, inflicting a loss on the enemy estimated at twenty millions of dollars All this was accomplished with a loss to us of one Captain and four privates killed and eight privates wounded. All the above loss was in the Fifth Iowa Cavalry, except one man of the Eighth Indiana Cavalry, wounded; which shows the prominent part the Fifth Iowa Cavalry bore in what may well be termed the most successful raid of the war.

Among the killed was Captain William Curl, of Company D, and among the severely wounded was Captain J. C. Wilcox, of Company H. The entire loss of the two brigades, in killed, wounded and missing, did not exceed thirty men. It will thus be seen that the Fifth Iowa Cavalry sustained nearly one-half the casualties of the entire command, and took the most conspicuous part of any regiment engaged in the expedition.
Unfortunately, Curl's grave went unidentified for the next century until the thorough research of Civil War historian, David Evans, rectified that situation. The following newspaper report reveals the story of this discovery.
Union soldier's grave
finally marked after 133 years

MARIETTA -- Abraham Lincoln's post-Civil War call "to bind up the nation's wounds" was remembered over the weekend at a ceremony to place a stone on a Union soldier's grave that had been unmarked for 133 years. About 100 people gathered on a quiet hillside in Marietta National Cemetery where cavalry officer William Curl is buried along with 10,000 soldiers--3,000 of them unknown.

Historian David Evans searched through the records of more than 10,000 Civil War soldiers and fought with government officials to get a new, white marble headstone with black lettering carved into a shield motif for Capt. Curl's grave. Curl, the oldest of three sons born in Princeton, Indiana, enlisted in the Union army at the age of sixteen after he moved west to establish a homestead for his widowed mother and two sisters. He helped organize the Fifth Iowa Cavalry Regiment and sent money back to his mother, Eliza Curl.

He was killed on July 13, 1864, in an ambush near Greensport, Alabama, and was buried in an unmarked grave on the banks of the nearby Coosa River. Mrs. Curl scraped together $300--half of all she had--to bring her son's body back to Indiana, but government officials told her they could not find it. Curl's remains were moved to the suburban Atlanta cemetery after the war. He was reburied in a grave marked only with a 6-inch-square block of marble bearing a plot number.

On Saturday, cemetery Superintendent James H. Wallace read Civil War prayers and recalled Lincoln's words in the benediction. Fife and drum music wafted down the hillside as Civil War reenactors dressed in Union blue raised their rifles and fired into the air. A Union flag billowed in the breeze. "We are here today… because a mother's love has reached across the pages of history to rescue her son, Captain William Curl, from the ranks of the unknown," said Evans, who was unable to find any living relatives.