Veterans of Company E
Fifth Iowa Volunteer Cavalry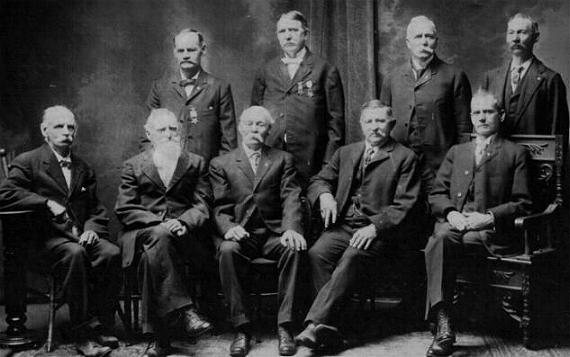 For this amazing photograph we owe a debt of gratitude to William Hammel, great-grandson of August Hammel who proudly stands with fellow veterans of Company E, Fifth Iowa Cavalry. The photograph comes from a 1911 edition of the Dubuque Times-Journal. With Grand Army of the Republic medals visible, it appears this image was captured at a reunion or a regular meeting of the local GAR chapter. Below we reproduce the information about each trooper which appears in the Official Regimental Rosters. Since all of these courageous men signed up in 1861 and reenlisted for the duration of the war when their three-year enlistments ended in 1864, there are two entries for each. The first is from the Fifth Regiment Iowa Volunteer Cavalry. The second comes from the Fifth Regiment Iowa Veteran Cavalry Consolidated. As we receive additional information about any of these patriots, we will set up individual pages for them. In the meantime, we hope you will find this tribute to them all fitting.
Standing Row from Left to Right

Hammel, August (Veteran)
Age 23. Residence Dubuque, nativity Germany
Enlisted August 26, 1861. Mustered October 7, 1861
Taken prisoner May 5, 1862, Lockridge's Mill, Tennessee
Returned to Company June 7, 1862
Reenlisted and remustered January 1, 1864
Promoted Eighth Corporal March 1, 1864
Taken prisoner July 31, 1864, Chattahoochee River, Georgia
Transferred to Company E, Fifth Veteran Cavalry Consolidated, August 8, 1864
Hammel, August (Veteran)
Age 23. Residence Dubuque, nativity Germany
Transferred from Company E, Fifth Cavalry, as Eighth Corporal, August 8, 1864
Promoted Fifth Corporal February 3, 1865
Mustered out June 3, 1865, Davenport, Iowa.

Healey, George W. (Veteran)
Age 19. Residence Dubuque, nativity Iowa
Enlisted September 9, 1861. Mustered October 7, 1861
Reenlisted and remustered January 1, 1864
Transferred to Company E, Fifth Veteran Cavalry Consolidated, August 8, 1864
Healey, George W. (Veteran)
Age 19. Residence Dubuque, nativity Iowa
Transferred from Company E, Fifth Cavalry, August 8, 1864
Promoted Sixth Corporal February 3, 1865; First Corporal July 1, 1865
Mustered out August 11, 1865, Nashville, Tennessee

Thompson, George W. (Veteran)
Age 18. Residence Dubuque, nativity Iowa
Enlisted September 9, 1861. Mustered October 7, 1861
Reenlisted and remustered Jan. 1, 1864
Transferred to Company E, Fifth Veteran Cavalry Consolidated, August 8, 1864
Thompson, George W. (Veteran)
Age 18. Residence Dubuque, nativity Iowa
Transferred from Company E, Fifth Cavalry, August 8, 1864
Promoted Seventh Corporal February 3, 1865; Second Corporal July 1, 1865
Mustered out August 11, 1865, Nashville, Tennessee

Hoffman, Nicholas
Age 22. Residence Wisconsin, nativity Germany
Enlisted August 27, 1861. Mustered October 7, 1861
Taken prisoner May 5, 1862, Lockridge's Mill, Tennessee
Returned to Company June 7, 1862
Transferred to Company E, Fifth Veteran Cavalry Consolidated, August 8, 1864
Hoffman, Nicholas
Age 22. Residence Wisconsin, nativity Germany
Transferred from Company E, Fifth Cavalry, August 8, 1864
Discharged October 25, 1864, Nashville, Tenn., expiration of term of service
Seated Row from Left to Right

Dickinson, Eli H. (Veteran)
Age 17. Residence Dubuque, nativity New Hampshire
Enlisted September 17, 1861, as Sixth Corporal. Mustered October 7, 1861
Promoted Sixth Sergeant January 1, 1863
Reenlisted and remustered January 1, 1864
Promoted Fifth Sergeant January 1, 1864
Taken prisoner July 31, 1864, Chattahoochee River, Georgia
Transferred to Company E, Fifth Veteran Cavalry Consolidated, August 8, 1864
Dickinson, Eli H. (Veteran)
Age 19. Residence Dubuque, nativity New Hampshire.
Transferred from Company E, Fifth Cavalry, as Fifth Sergeant, August 8, 1864
Promoted Third Sergeant February 3, 1865
Mustered out June 6, 1865 Clinton, Iowa

Allen, Thomas (Veteran)
Age 21. Residence Wisconsin, nativity New York
Enlisted August 27, 1861. Mustered October 7, 1861
Reenlisted and remustered January 1, 1864
Promoted Sixth Corporal March 3, 1864
Transferred to Company E, Fifth Veteran Cavalry Consolidated, August 8, 1864
Allen, Thomas (Veteran)
Age 21. Residence Grant County, Wisconsin, nativity New York
Transferred from Company E, Fifth Cavalry, as Sixth Corporal, August 8, 1864
Promoted Third Corporal February 3, 1865; Sixth Sergeant July 1, 1865
Mustered out August 11, 1865, Nashville, Tennessee

Morgan, William J.
Age 24. Residence Dubuque, nativity Pennsylvania
Enlisted August 25, 1861, as First Corporal. Mustered October 7, 1861
Promoted to Regimental Band
Returned to Company June 12, 1862
Promoted Fourth Sergeant January 1, 1863; Company Commissary Sergeant August 1, 1863
Transferred to Company E, Fifth Veteran Cavalry Consolidated, August 8, 1864.
Morgan, William J.
Age 24. Residence Dubuque, nativity Pennsylvania
Transferred from Company E, Fifth Cavalry, as Company Commissary Sergeant, August 8, 1864
Mustered out October 25, 1864, Nashville, Tennessee, expiration of term of service

Beyer, Anthony (Veteran)
Age 19. Residence Dubuque, nativity Germany
Enlisted September 2, 1861. Mustered October 7, 1861
Reenlisted and remustered January 1, 1864
Transferred to Company E, Fifth Veteran Cavalry Consolidated, August 8, 1864
Beyer, Anthony (Veteran)
Age 19. Residence Dubuque, nativity Germany
Transferred from Company E, Fifth Cavalry, August 8, 1864
Mustered out August 11, 1865, Nashville, Tennessee

Gilliam, Charles A. (Veteran)
Age 20. Residence Dubuque, nativity Illinois.
Enlisted September 13, 1861. Mustered October 7, 1861.
Taken prisoner May 5, 1862, Lockridge's Mill, Tennessee
Returned to Company June 7, 1862
Promoted Sixth Corporal January 1, 1863; Fifth Corporal June 1, 1863
Reenlisted and remustered January 1, 1864. Promoted Fourth Corporal March 1, 1864
Transferred to Company E, Fifth Veteran Cavalry Consolidated, August 8, 1864
Gilliam, Charles A. (Veteran)
Age 20. Residence Dubuque, nativity Illinois
Transferred from Company E, Fifth Cavalry, as Fourth Corporal, August 8, 1864
Promoted First Corporal February 3, 1865; Fifth Sergeant July 1, 1865
Mustered out August 11, 1865, Nashville, Tennessee