Regimental Commanders
Fifth Iowa Volunteer Cavalry

During the regiment's history, a number of acting regimental commanders stepped into the role when circumstances demanded. However, only two "full colonels" served as the true commanders during the war.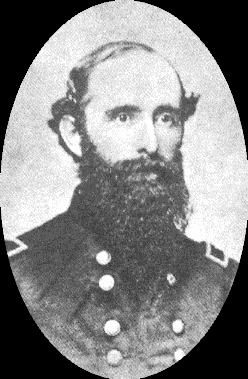 William Warren Lowe
The first Colonel commanding at the helm of the Fifth Iowa Cavalry was William Lowe. Born in Greencastle, Indiana in 1831, he was appointed to the United States Military Academy from Iowa. He graduated with the class of 1853, standing midway in the class' rankings, thirtieth out of fifty-two graduates. Some of his classmates destined to serve in the war which rent the Union, included James McPherson (1/52), John Schofield (7/52), Philip Henry Sheridan (34/52) and John Bell Hood (44/52). After graduation, he served in the dragoons for two years and was appointed Regimental Adjutant of the Second United States Cavalry. While serving in the Second Cavalry, his commander was Albert Sidney Johnston, with Robert E. Lee as the regiment's Lieutenant Colonel. Lowe was promoted to captain in May 1861.
Captain Lowe was appointed Colonel of Volunteers and assigned to command the Curtis Horse on December 5, 1861. On June 24, 1862, the Curtis Horse was redesignated the Fifth Iowa Cavalry by the War Department. During his service with the Fifth Iowa Cavalry, he temporarily commanded both the brigades and divisions to which the Fifth was assigned. Although Colonel Lowe nominally continued in command of the Fifth Iowa Cavalry, he was not on duty with the regiment after May, 1864 when he was assigned to command the Third Cavalry Division, Cavalry Corps, Army of the Cumberland. In August 1864 he was assigned to duty with the Department of the Cumberland in Nashville, where he was in charge of the remount depot. There is no record of his rejoining the regiment thereafter.
He was awarded regular army brevets for actions at Chickamauga and near Huntsville, Alabama. In March 1865, he was also awarded brevets as a Brigadier General, United States Army and United States Volunteers, for his invaluable service. Colonel Lowe resigned his volunteer commission on January 24, 1865 but remained on active service in the Army until he resigned as a Major, Sixth Cavalry, in 1869. (The wartime "brevet" ranks were "temporary" grades, and in the constriction of the military following the war, virtually all officers-like George Armstrong Custer, for example-reverted to lower, "permanent" ranks.) After he left the army he was involved in railroading and mining. He died in Omaha, Nebraska on May 18, 1898 at the age of 68.
Mathewson T. Patrick & Harlon Baird
During the period between May, 1864 and January, 1865, the Fifth Iowa Cavalry was led in the field by acting regimental commanders as customary in military service when a senior is on detached duty. Those serving as acting regimental commanders for portions of that period are:
Mathewson T. Patrick, born in Pennsylvania about 1832 and a resident of Omaha, Nebraska, was was appointed captain, Company A, on August 29, 1861 and promoted to Lieutenant Colonel of the regiment on November 13, 1861. Lt. Col. Patrick resigned on September 14, 1864.

Harlon Baird (also known as Beard), born in Kentucky about 1821 and a resident of Dakota, Nebraska, was appointed captain, Company D,on November 13, 1861 and promoted to Major, First Battalion, November 1, 1862. On the resignation of Patrick, he was appointed Lieutenant Colonel of the regiment on September 15, 1864. Baird resigned shortly before the conclusion of the war, on March 28, 1865.

John Morris Young, was Major, Second Battalion during this period. He was ultimately promoted to Colonel to succeed Colonel Lowe as the regiment's second full commander.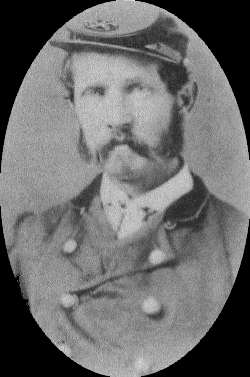 John Morris Young
The Fifth Iowa's second commander, John Morris Young was born in Indiana about 1833. When the war began, he was a resident of Page County, Iowa. He was appointed captain, Company C, on August 16, 1861 and promoted to Major, Second Battalion, on November 1, 1862. He was promoted to Colonel to succeed Colonel Lowe on January 25, 1865. Colonel Young remained in command of the regiment until it mustered out of Federal service on August 11, 1865.
Photograph Sources: W.W. Lowe from the New York State Library and J.M. Young from the Iowa State Historical Society. The information was compiled by Keith Young.