Sergeant Samuel W. Campbell
Fifth Iowa Volunteer Cavalry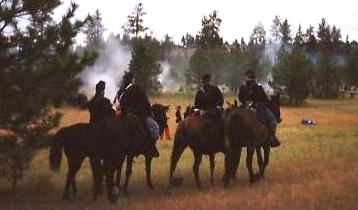 Samuel W. Campbell enlisted in Company C as their Third Corporal on September 26, 1861. He quickly rose through the ranks, being promoted to Second Corporal on New Years Day, 1862 and Fifth Sergeant on November 1, 1862.
Following his reenlistment he was promoted to Company Commissary Sergeant on October 12, 1864. Having served for the duration of the war, he mustered out on August 11, 1865 at Nashville, Tennessee.
The History of the State of Kansas by William Cutler states that following the war he was employed in the hardware business in Saint Joseph, Missouri until 1873. In 1869 he married Emma Lee Keedy, and they had three children: Fred, Reuben and Daniel. He changed professions to banking and moved in 1876 to Hutchinson, Kansas where he served as a bank cashier. Contributing to his community in time of peace as well as war, in 1882 he served as treasurer of an organization which provided the city with a fine opera house. It could seat 800, and featured "10 sets of scenery, fine commodious dressing rooms and all modern stage appointments."