Sergeant Thomas Jefferson Bull
Fifth Iowa Volunteer Cavalry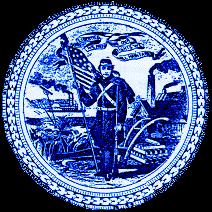 Thomas Jefferson Bull lived up to the patriotism of the president in whose honor he was named. Bull enlisted as a private on September 28, 1861. His leadership skills were evident and the following January he was promoted to Seventh Corporal in Company C. He served for the duration of the war, through all of its varied engagements, and was mustered out with the rest of the regiment in Nashville. In the meantime, he was promoted seven times, concluding the war as a Fourth Sergeant.
Bull was born in 1837 near Ashmore, Illinois. This explains the fact that his brother, James Madison Bull, served in the Twelfth Illinois Infantry. In his brief memoirs, penned in 1927, several years before his death at the age of ninety-three, he wrote: "In August [of 1860] I rigged up a team, new Shutler wagon covered, two good horses and a fine two year old colt that we led the first days, but after that he followed and his name was Tinker… Father had bought a little farm in Page county, Iowa and deeded it to my half sister, Martha Jarvis… She was now Mrs. John Root…"
Prior to enlisting in Company C which mustered in Omaha, Bull and some of his friends responded to the claims of a man from Missouri who was recruiting men for a volunteer company. They spent two weeks "at our captain's farm" putting up prairie hay for their horses. After that they actually participated in several small actions with rebels and rebel sympathizers. Bull writes, "we stayed a month and found our captain was a fraud, with us no nearer getting into the service of uncle Sam than when we started and no sign of pay, so we wanted to get some washing done and forgot to go back."
Unlike Samuel Clemens who ended his military service with the disbanding of his irregular Missouri unit, Bull truly desired to preserve his country, and he journeyed to Nebraska where he joined up with the Nebraska battalion which would become the core of the Curtis Horse. "Two of my four companions that went into Mo. with me, went into the 1st Neb infantry, the other stayed at home."
During the war, Bull experienced a number of dangerous and exciting events. The following account comes from the battle at the Chattahoochee River in Georgia which was fought on July 31, 1864. The men referred to below, Private David Corbin and Private William McFarland, were also members of Company C, and both served as veterans, being mustered out at the war's conclusion, alongside their friend Thomas Jefferson Bull.
Along toward evening they got pretty bold and as a bunch came closer, Lieut. Wilhite says, "come on boys" and we went after them and drove them some 200 or 300 yds. and some of our men began firing on us and shot one of my best chums in the mouth and the bullet came out on his neck cutting his juggler vein. As I passed him he was bleeding like a stuck hog, so I thought nothing could be done for him and went on, but was called back to help carry Corbin back as the blood had stopped and he was conscious. So 4 of us made a saddle of our hands and carried him back - the Johnnies following shooting and we 5 together made an attractive mark. Don't think I ever heard bullets sing so close and fast as there, but wasn't thinking of myself for feared they would hit Corbin again. When we got back they were preparing to leave and Lieut. Wilhite asked me to stay and take care of Corbin. I said, "Lieut. if you make that an order I'll stay, but I don't think they will let me stay with him and I'll be rushed off to prison," so about that time one McFarland spoke up and asked if he might stay and take care of him, so that let me out. McFarland got back to the Company, having escaped the Rebs. - said they didn't let him stay one minute with Corbin.
Bull lived a long and fruitful life. He was the father of three daughters, and was buried in Ashmore, Illinois, near his birthplace. All descendents of Fifth Iowa regimental members owe a debt of gratitude to Bull for putting his memories to paper, as well as to Bull's relatives for preserving them.
The Fifth Iowa Volunteer Cavalry regimental site is deeply grateful to Steve Woodfall, great-great-grand-nephew of Sergeant Bull, for providing the information for this tribute to this veteran's courage.