Private Lawson R. Bettis
Fifth Iowa Volunteer Cavalry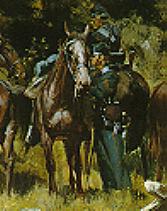 Lawson Bettis enlisted on July 8, 1862, in Company H of the Fifth Iowa Cavalry. He was thirty-two. His younger brother, Frank, had already enlisted the previous summer in the Fifth Iowa Infantry. Both men would serve their country well.
Lawson remained in the regiment until most of its veterans were mustered out on June 17, 1865 at Nashville, Tennessee. Although it does not include wartime content, we are fortunate to have the following correspondence from Bettis, which was was written to his father in the decade following the war (penned on April 6, 1856). This excerpt reveals that many of the veterans were able to return to simpler pleasures after the close of the terrible conflict.
You spoke of me or John and I farming operations. Our great oversight was in buying a threshing machine and paying what you would call an enormous price for it. It cose seven hundred dolars and it was not woth a cent. Our great oversight was in not having it warrented but we should blame no one but ourself. If our threshing machine had been a good one we would have made a good deal of money. Our repairing it is all that saved us from getting deeply in debt. Our expenses were very large it is true, at least it would seem so to you in the States but not here in California five thousand dol here is not as much as five hundred in the States. We paid out over 2500 hundred dol during the months of June and July seven hundred in the last. So like the Frenchman's horse was good for nothing when it was caught --- Since then I have made but little worked out by the month at fifty dollars a month but times are very dull in Cal now on account of the dry weather which makes everything dull here…

…for Large Timber I spent sometime rambling through the redwoods in the mountains, about seventy five miles from Stockton you begin to see large trees. You will see them on every hand from 1 to 15 feet thrugh and as you get father from the valey still larger… now we have got to the big tree. Just imagine to yourself a tree 32 feet through and three hundred feet long. One hundred and fifty feet from the base you ascend a flight of steps and find yourself in the big tree Hotele at the back of the house towards the top (on the tree I wish you to understand) is a ball aly one hundred and ten feet long the full length of the tree when fallen was three hundred and fifty but a great deal has been taken off at the top for cains. There is a regular manufactory for them. The plain ones sell very readly one doll a peice others sell from three to eight. There is still larger trees than.

Dear father you wished to know what my intention was about coming home I cannot say what time I shall be at home but intention is to start across the plains as soon as the snow in the mountains will permit John and I going into Kansas Territory and Nebraska but I do not know whether we will do it or not --- give my respect to all friends and love to mother and T.

To my father, Jeremiah Bettis
Your affectionate son,
L.R. Bettis

The information about the life of this proud veteran was provided by his great-granddaughter Grace Anagnostou.