Lieutenant Rowland Beatty
Fifth Iowa Volunteer Cavalry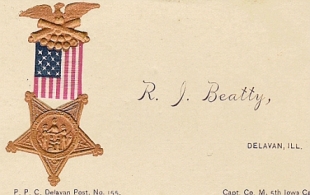 Beatty's Postwar Business Card
Grand Army of the Republic Badge

Rowland J. Beatty was twenty years of age when he volunteered to serve his country. He had been born in Ireland and was living in Osage County in central Missouri when the war started. He was appointed Second Lieutenant of the Osage Independent Mounted Rifles on August 11, 1861 and mustered into Federal service on August 30, 1861. The Osage Mounted Rifles were enlisted in Osage County Missouri under Capt. J.K. Kidd. and mustered into the service on September 14, 1861. On January 2, 1862 the Osage Mounted Rifles joined the "Curtis Horse" Regiment at Benton Barracks, Missouri. Their addition meant that the regiment now included companies formed in four separate states. On June 25, 1862, the "Curtis Horse" Regiment was designated the Fifth Iowa Cavalry.
While on detached service with Company M in western Tennessee, he served as recruiting officer for the Second West Tennessee Cavalry which was formed from recruits in the area near Humbolt, Tennessee (June - August of 1862). Beatty was promoted to First Lieutenant on September 11, 1862. While seven companies of the Fifth Iowa Cavalry were conducting a five-day foraging expedition from Fort Donelson (May 19-24, 1863), the force had a skirmish with the enemy and Lieutenant Beatty was slightly wounded. He continued to serve through the rest of war, earning the designation of "veteran" by reenlisting in 1864. Beatty was mustered out on January 26, 1865 by reason of expiration of service.
After the war Beatty spent some time living in Delavan, Illinois where he was a member of the Delavan GAR Post Number 155. The GAR badge above is a rare treasure as few of these identification pins have survived.
Thank you to Keith Young for providing this information and the image of Beatty's business card. The GAR identification badge is from the collection of Jeff Brown. If you are related to this veteran of the Fifth Iowa Cavalry, we would like to hear from you.