Clara Barton
Search for Missing Fifth Iowa Cavalry Veterans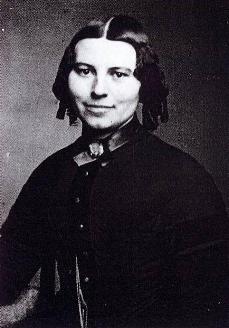 Clarissa Harlowe Barton (better known as Clara Barton) was a heroine of the War Between the States. Her nursing efforts during the conflict are well known. Less familiar today are her efforts in identify the fates of "missing soldiers." Born on Christmas Day, 1821, she grew up in a farming family in Massachusetts.
Barton was an educator, assuming her first teaching position at the age of seventeen. At the outbreak of the Civil War, Barton's compassion led her to serve as a volunteer in an attempt to alleviate suffering. She advertised for supplies and distributed bandages, clothing, and other goods to aid wounded Union soldiers. In 1862, she was granted permission to deliver supplies directly to the front, which she did without fail for the next two years. In 1864, Barton was awarded the position of Superintendent of Union Nurses. Following the war's end, she initiated a systematic letter-writing campaign to search for missing soldiers.
In this capacity, her Office of Correspondence wrote to newspapers in each state, in the hopes that some reader might possess a credible lead as to the whereabouts of unaccounted for soldiers. The correspondence below appeared in the Thursday, June 7, 1866 issue of the Keosauqua Weekly Republican published in Van Buren, Iowa.
To Returned Soldiers and Others
Office of Correspondence with the Friends
of the Missing Men of the United States Army
Washington, DC, May 30, 1866

Dear Sir:
Herewith enclosed please find rolls of missing men. Nos. 3 and 4, accompanied by an explanatory heading, which I trust renders their object and character sufficiently apparent.

If not to much trouble will you have the kindness to publish the list of your State (with the heading) in your paper. Your readers may know the fate of some of these brave men and comrades who have so nobly given up their lives, and whose uncertain history is deepening the shadows in so many thousand homes.

In the hope that we may be able to throw light upon these obscure cases, and relieve some of the anxiety and distress attending them, I have taken the liberty to solicit the co-operation of yourself and your readers

Yours very respectfully,
Clara Barton
Washington, DC, May 1, 1866

Soldiers and Friends of Soldiers,

This roll, No. 3, is composed entirely of names of soldiers who have been killed in battle, died in Southern prisons, or otherwise lost in the service, and whose fate is unknown to their friends.

Each name here enrolled is taken from the letter of some relative or friend, who has written to me asking my aid in their painful search; and in their behalf I appeal to you to give such facts relative to the fate of these men as you may recollect or can ascertain. They have been your comrades on march, picket or raid, or in battle, hospital, or prison, and falling there the fact and manner of their death may be known only to you.

The thousands of letters making those inquiries are in my possession, filed and recorded, and the bereaved families and friends are anxiously waiting the information which they hope to obtain from you.

Please examine the rolls and if you have facts relative to any one herein named, communicate them to me by letter, with your full address so that the information may be immediately forwarded to the inquiring family.

As some may have returned since the inquiry, or a comrade whose name appears here may be known by you to be living, please inform me, that the name may be withheld from future rolls.

Letters of inquiry for missing soldiers need only to contain the names, with the regiment, company and State, or other organization to which they belonged, and the address of the writer plainly written.

No apology is necessary for writing me; and if a letter fails to receive an answer, please write again, as no letter will ever be intentionally neglected, and in no case will any compensation be accepted.

Clara Barton
Address:
Miss Clara Barton,
Washington, DC

[Among the forty-five names on the list, are the following from the Fifth Iowa Cavalry.]

IOWA
McCracken, George, Co. A, 5th cav
Spink, Edwin, Co. L, 5th cav
Ward, Amos W., Co. B, 5th cav
As to the fates of these individual troopers… the following information comes from the Official Roster. It does not indicate uncertainty about their ultimate fate, but as Barton's inquiry was posed after the end of the war, it raises significant questions as to when, and whether, these veterans eventually returned home.

McCracken, George. - Co A
Age 23, Residence Pottawattamie County, Iowa - Nativity Illinois
Enlisted February 29, 1864 - Mustered February 29, 1864
Taken prisoner July 30, 1864, Chattahoochee River, Georgia
Transferred to Co A Fifth Veteran Cavalry Consolidated, August 8, 1864
Mustered out Aug. 11, 1865, Nashville, Tennessee

Spink, Edwin R. - Co L
Age 33, Residence Cerro Gordo County, Iowa - Nativity New York
Enlisted March 23, 1864 - Mustered April 11, 1864
Taken prisoner July 31, 1864, Newnan, Georgia
Transferred to Co L Fifth Veteran Cavalry Consolidated, August 8, 1864
Promoted to Farrier, September 22, 1864
Mustered out August 11, 1865, Nashville, Tennessee

Ward, Amos A. - Co B
Age 25, Residence Marengo, Nativity Ohio
Enlisted February 22, 1864 - Mustered March 10, 1864
Taken prisoner July 31, 1864 Chattahoochee River, Georgia
Transferred to Co B Fifth Veteran Cavalry Consolidated, August 8, 1864
Mustered out Aug. 11, 1865, Nashville, Tennessee
In the war's aftermath, Barton lectured about her experiences. She also continued her work at the Office of Correspondence, attempting to learn the fates of missing soldiers. Barton traveled to Europe and returned to America devoted to gaining her nation's signature on the Treaty of Geneva. She was also energized to establish the Red Cross in the western hemisphere, and she did so in 1881, serving as its first president. She expanded the organization's purview to include responses to peacetime as well as wartime disasters. Her contributions to society were many, as teacher, nurse and humanitarian. Clara Barton died on April 12, 1912, remembered with genuine affection by the surviving veterans and their families for whom she had provided such selfless care.