Lieutenant Colonel Harlon Baird
Fifth Iowa Volunteer Cavalry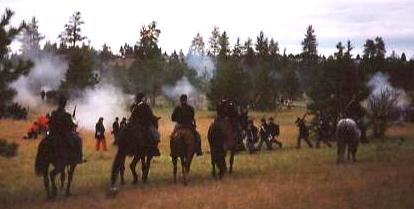 Harlon Baird of Dakota, Nebraska, was appointed Captain of Company D of the Fifth Iowa Cavalry on November 13, 1861. He was forty years old and had been born in Kentucky. Within a year he had been promoted to First Battalion Major. On September 15, 1864 he was promoted to Lieutenant Colonel. (This date comes from the Official Roster, and differs from the information below.) With the end of the war in clear sight, Baird resigned his commission on March, 29, 1865.
The "Dakota County" chapter in Andreas' History of the State of Nebraska includes the following biographical sketch:
Harlon Baird, farmer, Section 34, P.O. Homer; is a native of Bourbon County, Kentucky. In 1836 came to Indianapolis, Indiana; engaged in live stock and lumbering about six years. In 1852 came to Butler County, Iowa, engaged in buying and selling lands, also farming. November, 1855, came to Dakota County; settled on this farm. He is one of the first settlers of the county. He owns about 400 acres, all under fence. His cattle yards are probably not excelled by any in the State, being protected on all sides by mounds, with a sufficient supply of shade trees, there is also a stream of water constantly flowing through these yards. In 1861 he was commissioned Captain Company D, Fifth Iowa Cavalry. In 1862 was promoted to Major, and again promoted in 1863 to Lieutenant Colonel. Was mustered out June 26, 1865. Was a member of the State Senate in 1868.