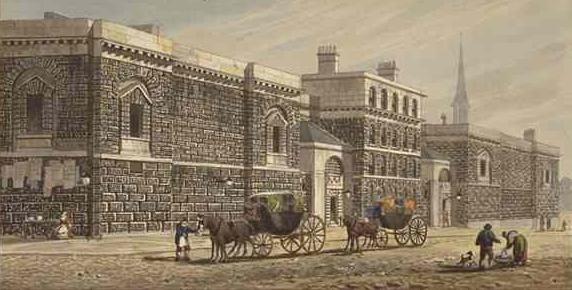 William Stroud

Convicted Felon

From the mid-1700s into the next century, various editions of the Newgate Calendar were published. It was composed of many stories of criminals and their punishments. Rather than being intended for prurient interests, its purpose was to inspire both adults and children to live wholesome lives so that they might avoid the pitfalls of the individuals whose experiences it recounted.
Unfortunately, one of the offenders it describes sullied the Stroud surname. Sadly, William Stroud displayed criminal proclivities from his youth, as the following account testifies. It is shared here at the Stroud Surname website in the hopes of encouraging other bearers of this proud name to stay on the straight and narrow.
WILLIAM STROUD
A Notorious Impostor
who was Six Times whipped through the Streets of Westminster
in the Month of March, 1752
William Stroud was well born and educated, but very early in life took to little tricks of cheating. When but a schoolboy he used to purloin blank leaves from the books of his companions, and was remarkable for robbing them of their marbles.
This disposition continued while he was an apprentice; and at length he embarked in business for himself. But he had not been long a master before he considered trade as a drudgery; on which he sold off his stock, took lodgings in Bond Street, and assumed the character of a fine gentleman.
He now lived in a most expensive manner, supplying the extravagances of women of ill-fame. This soon reducing him to indigent circumstances, he fixed on a plan of defrauding individuals; for which purpose he got credit with a tailor for some elegant suits of apparel, took a genteel house, and hired some servants, by which he imposed himself upon the public as a man of large estate.
An extensive credit and a splendid mode of living were the consequences of his elegant appearance; but some tradesmen bringing in bills, which he was equally unable and unwilling to discharge, he sold off his household furniture and privately decamped.
He now took handsome lodgings in Bloomsbury, and dressing himself in velvet clothes he pretended to be the steward of a nobleman of high rank. He likewise took a house in Westminster, in which he placed an agent, who ordered in goods as for the nobleman; and the tradesmen who delivered these goods were directed to leave their bills for the examination of the steward. But the effects were no sooner in possession than they were sold to a broker, to the great loss of the respective tradesmen.
Stroud used to travel into the country in summer, and, having learned the names of London traders with whom people of fortune dealt, he used to write in their names for goods; but, constantly meeting the wagons that conveyed them, generally received the effects before they reached the places to which they were directed. London and the country were equally laid under contribution by him; and jewellers, watchmakers, lacemen, tailors, drapers, upholders, silversmiths, silk-mercers, hatters, hosiers, etc., were frequent dupes to his artifices.
He was at length apprehended as a common cheat, and committed to the Gatehouse, Westminster. On his examination a coachmaker charged him with defrauding him of a gilt chariot, a jeweller of rings to the amount of a hundred pounds, a tailor of a suit of velvet trimmed with gold, a cabinetmaker of some valuable goods in his branch, and several other tradesmen of various articles.
The grand jury having found bills of indictment against him, he was tried at the Westminster Sessions, when witnesses who had been duped and plundered by him appeared to give their evidence; and he was instantly found guilty.
The Court sentenced him to hard labour in Bridewell for six months, and in that time to be whipped through the streets six times; which was inflicted with the severity which they intended. He was scourged so as to be made an example to others in the like cases offending.